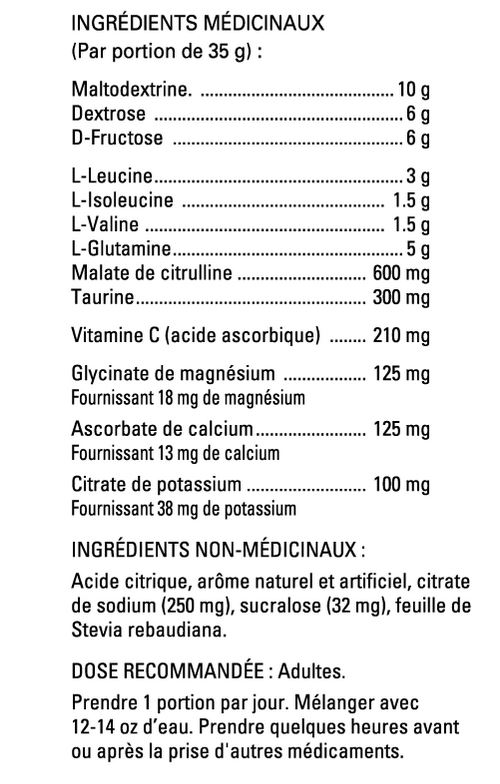 DELTA CHARGE contains three different sources of carbohydrates to provide energy:
Maltodextrin
Dextrose
Fructose
Contains 6 g of BCAA per serving. BCAAs are the three most important amino acids for energy.
Contains 5 g of L-Glutamine, an amino acid that helps maintain the health of the immune system
following periods of physical stress.
Electrolytes promote hydration by stimulating thirst and help prevent muscle cramps.
Pleasant flavors specially designed for consumption during the effort.
USAGE OU FINS RECOMMANDÉS :Supplément athlétique. Source d'acides aminés essentiels pour le maintien d'une bonne santé. Source d'acides aminés branchés (AAB), jouant un rôle dans la synthèse des protéines Source de glucides pour soutenir la production d'énergie. Aide à maintenir la performance lors d'exercices soutenus (plus de 60 minutes) et de grande intensité. Aide l'organisme à métaboliser les glucides, les protéines et les lipides. Aide au bon fonctionnement des muscles.

DOSE RECOMMANDÉE :Adultes. Prendre 1 mesure par jour. Mélanger avec 12-14 oz d'eau. Prendre quelques heures avant ou après la prise d'autres médicaments.

MISES EN GARDE :Assurez-vous de boire suffisamment de liquide avant, pendant et après l'exercice. Si vous êtes enceinte et allaitez, consulter un praticien de soins de santé avant d'en faire l'usage.