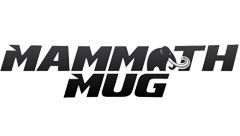 Item #: 332620181
Mammoth mugs are the ultimate hydration solution for your fitness lifestyle. These 21.5L bottles are ruggedly designed, easy to drink from, freezer-friendly, and have a large spout so you can mix your favourite shake. 
FEATURES
Size: 2.5 Liters / Approx 0.7 Gallons
An engraved scale on the side to track water intake
Leak-proof spider twist off shaker cap with built-in rubber seal
Freezer safe! Cool your mug before a hot day or workout!
Easy to drink/clean with wide mouth
BPA free
BPS free!
Estrogenic Activity free
Androgenic Activity free
Add fruit, protein, amino acids and other compounds with ease and no need for funnel!
Easy to carry built-in handle with the reinforced grained structure
Manufactured in a quality controlled/certified facility specializing in water purification and water dispensers
** Hand Wash Only**  The Medical Grade plastic  will not last in the dishwasher.
Related Products