Mutant - Test -180 capsules
Anyone who has experienced elevated testosterone levels will tell you, there's nothing like it. The recovery, strength, energy, libido, and general sense of well-being is off the charts. So why not do whatever you can to create a better environment for na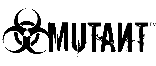 Anyone who has experienced elevated testosterone levels will tell you, there's nothing like it. The recovery, strength, energy, libido, and general sense of well-being is off the charts. So why not do whatever you can to create a better environment for natural testosterone levels to flourish? Optimizing testosterone levels will take your gains to the next level, so don't be left behind. It's hunt or be hunted, so get yourself ready for battle with MUTANT TEST. Because once you try it, you'll know that TEST IS LIFE.
Never before has a more powerful anabolic formula been developed that is clinically proven to jack testosterone levels faster than new MUTANT TEST. Testosurge is the proprietary, patent-pending, bioactive compound in this formula that works through multiple physiological pathways to quickly raise and protect your test levels, which can lead to freaky gains in muscle size and strength. It is the only product to deliver this amazing new ingredient that is proven to crank up test levels like no other. No more waiting days, weeks, or even months to blast your test levels through the roof — now you can have more juice in just hours!
Highlights
100% clinical strength
30 full-sized servings
18 tested premium ingredients
Includes 1500 mg Testosurge® & fenugreek stack

Details
• 6 targeted ingredients
• Includes clinically tested Testosurge and MacaTest
• Pro-caliber formula

Directions
On training and non-training days, take 6 MUTANT TEST caps every morning upon waking on an empty stomach with 8 ounces of water.